The story behind the photo: This was taken a few years ago at the Grist Mill in Plymouth. Just happened to be walking by and I saw this girl there with long blonde hair looking into the water. Kinda made me thing of some damsel or Rapunzel letting down her hair or some such fairy tale setting. So I did a quick snap and there it was. I personally think it's kind of a cool photo.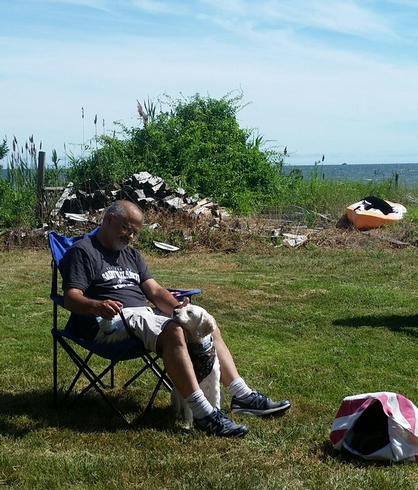 Spent yesterday afternoon down at the friends beach house. It was nice and cool down there, whereas everywhere else was super hot. Of course, the sun was still hot though – so I appear to have obtained a farmer's tan on my arms and legs, but that's what summer's all about, right? It was so peaceful there, I started nodding off with the sea breeze blowing about me and after gorging on pizzas for lunch. Plan on going back there Monday morning for some coffee!
---
Next read is Bread Bags and Bullies: Surviving the '80s. Something a little light-hearted.
Tonight we're having some pals over for a socially distant get together out on the patio, enjoying some take out and celebrate a birthday with some games. I'm hooking up some dragonfly lights to go around the outside deck for some night time illumination. I also noticed while watering last night that the hydrangeas are starting to bud and bloom – we mostly have a soft blue and white colored form. Looks the hibiscus we have though is gone so I want to go get another one to replace that.
The get-together was a lot of fun. S'mores over the fire pit, fun games – social interaction is pretty important.